As with all good stories, one must start at the very beginning. So, to explain why I'm writing an adventure blog for the rest of the summer, we must backtrack about a couple months.
Many months ago, I committed to go on a mission trip to Cleveland to work with the Syrian refugee population there. Our church planned the trip for the second week of August. Even after many months of preparation, fundraising, prayer, and planning, interest in our trip had gradually dwindled and many participants had to cancel, so we reluctantly decided it was best to cancel the trip (due to lack of interest), and to donate any fundraising dollars to the CMA mission group in Ohio.
Sometime in mid-June, I told my parents that I was now free at the beginning of August. Contrary to their recent behavior while I've been away at college, they invited me to join them on a vacation for that week. (For our family, a vacation always means eating lots of seafood somewhere north of Myrtle Beach.) And so, the discussion began. The conversation went something like this:
Mom: "I'm really glad you're going to be able to come with us on this trip!"
Me: "Me too, I'm looking forward to eating some good seafood. Do we have a plan for the week?"
Mom: "No, we don't actually know where we would stay. I haven't planned anything yet."
Me: *With slight sarcasm and not expecting serious consideration* "Here's a crazy idea: why don't we try going somewhere other than Cherry Grove?"
Mom: "That sounds like a great idea to me!"
Me:
Me:
Me:
Me: *Jaw dropped, and speechless*
Me:
Me:
Me:
Mom: "We could go to Niagara Falls! That's what [some of our friends from church] did recently!"
Me: "Uhhhhhhhhhhhhhhhhh………….that sounds great!!"
For those of you who don't know my mother well, I will now take time to attempt to explain why this might, in fact, be the single most unprecedented event of at least the past several decades.
For those of you who do know her and already savvy, feel free to skip this paragraph. — Let me begin by saying that to my knowledge, Mom has never traveled outside of the Carolinas, Tennessee, Virginia, and Georgia in my lifetime – maybe not even in her adult lifetime. And I'm not even sure about Virginia. Also, when I say Tennessee and Georgia, I'm talking Gatlinburg, one trip against her will to Watauga Lake, and a Braves game ten years ago.
Oh, and Dad and I dragged her to ASU's championships in Chattanooga from '05-'07, but I know for a fact the first one scarred her for life, because after the first game she adamantly promised she would never go to another large public sporting event in her lifetime.
Because she likes to be very clean and, quite frankly, bacteria-free were it possible, hotels are somewhat of a nightmare, and any travel outside of the bustling metropolis of Granite Falls, NC (population 4,651) is almost always limited to a day trip. Flying is completely off the table.
As many wonderful things as I have learned and inherited from her over the years, my strong sense of spontaneity and adventure is NOT one of them. I can't possibly describe to you how unusual this truly is.
For those of you who know me well, but not her, you know I may have never been at a loss for words, so that should give you a general idea. We won't even mention how long it took me to convince her sister that this wasn't an elaborate practical joke.
This message from the night we decided to go on the trip might help as well: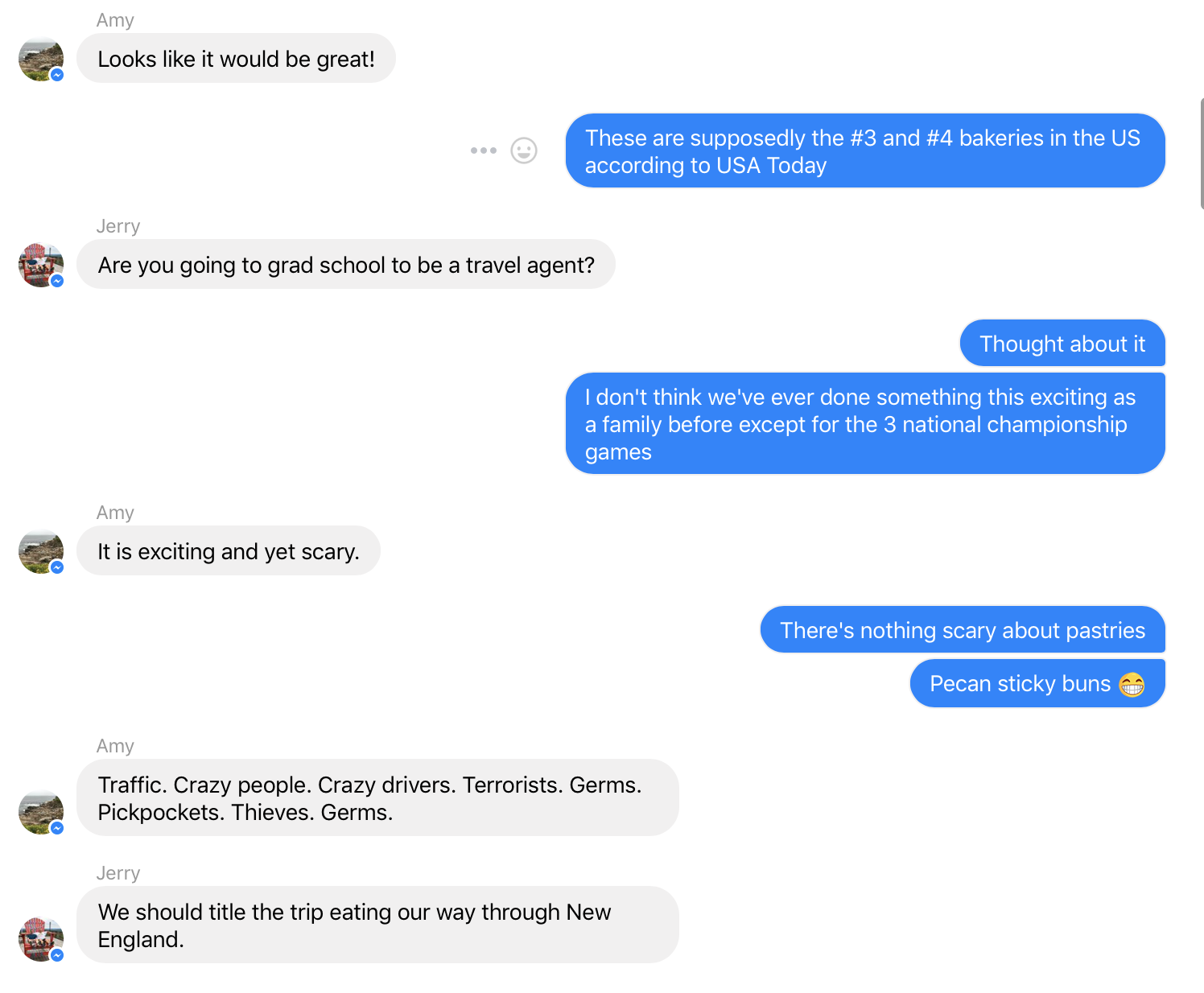 Now, back to another conversation that ensued.
Me: "I can't believe this is actually happening! This trip will be so exciting, and I've always wanted to see that part of the country."
Dad: *With great enthusiasm* "And there will be some really great food along the way!"
Mom: "How long does it take to drive to Maine from Niagara Falls?"
Dad and Me: *Repeat previous reaction*
Dad: "I hear there's really great lobster up in Maine! That's always been on my bucket list…to eat a bucket full of lobster."
Side note: joking aside, I'm actually convinced that Dad's 'bucket list', or at least a secondary list, is really just a list of foods of which he would like to consume an entire bucket.
After lots of Googling and quite a bit of planning, we determined that it was better to drive up to Maine first, and then head over to Niagara Falls. Of course, we figured we might as well stop along the way to smell the roses and taste the local cuisine. 
One thing led to another, and this is what we ended up with: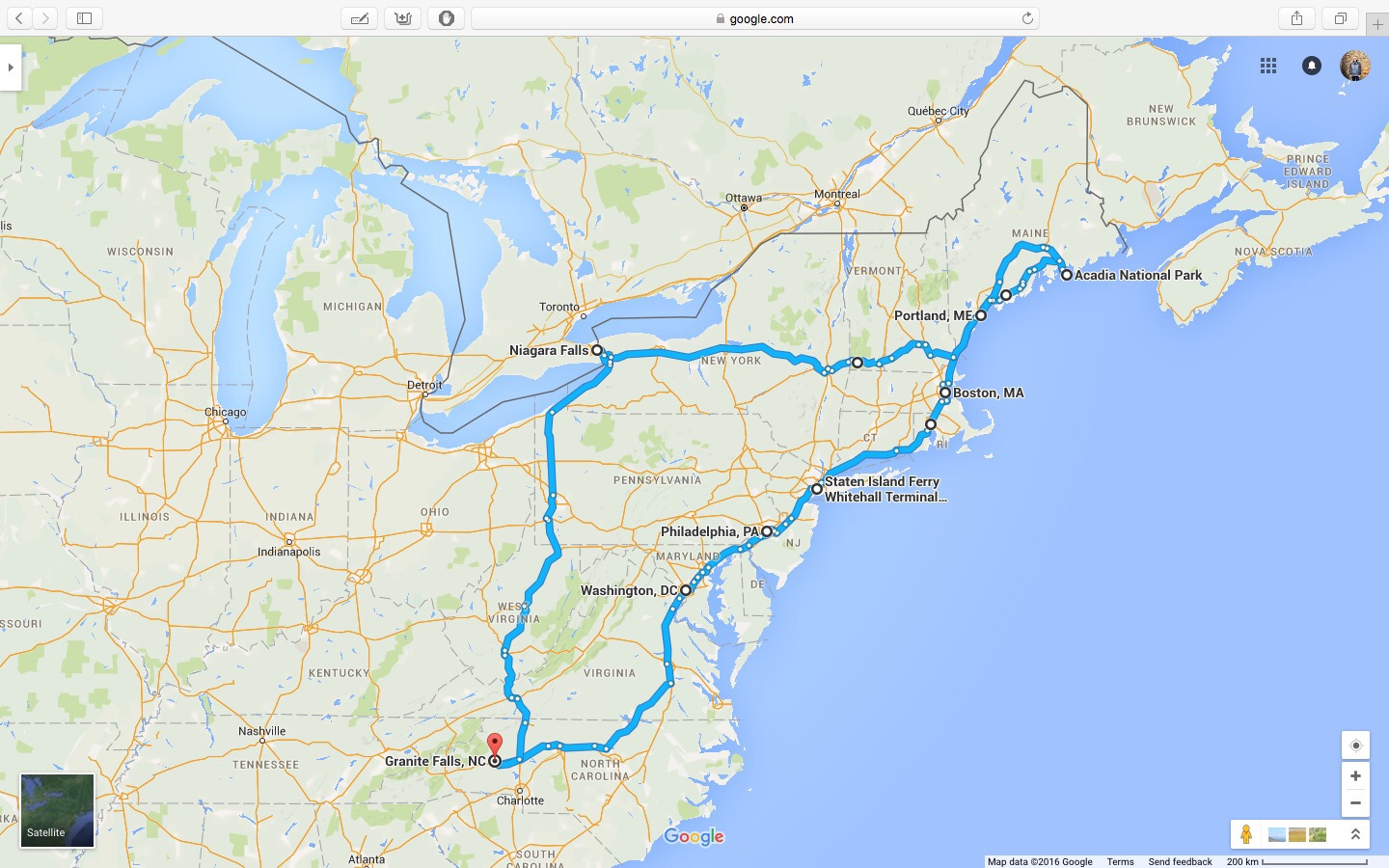 The craziest part is that map doesn't even cover everything. So, for those of you who were wondering "Why on earth did Isaac start a travel blog for his family?", this is the reason. I promise my succeeding posts won't be quite as long and lacking in the picture department, and I aim to make them as entertaining as possible.
I'll cover our adventures, include some photos I've taken, and certainly document some of the food–the most important part of any adventure. I might even include a few I.A. posts with Dad's quotes and lame jokes, documentation of how Northerners react to Caldwell County natives, and whatever else comes to mind.
Our current plan goes something like this: Granite Falls > Richmond > Washington, D.C. > Baltimore > Philadelphia > New York City > New Haven > Providence > Boston > Portsmouth > Portland > Bar Harbor > New Hampshire > Vermont > Syracuse > Rochester > Niagara Falls > Toronto > Pittsburgh > Granite Falls. Only time will tell if we'll make it home (or past Greensboro, for that matter) alive.