Today, May 14, marked my first full day as a student in my study abroad program to Poland. May 15 marked my first day in Warsaw.
Our group, which is comprised of MBA and Honors College students from Appalachian State, met at the Charlotte-Douglas International Airport on May 13 at 3:00pm (EST), and officially departed for Europe by 6:45pm (EST).
Our trip to Europe first involved a flight change in Munich, Germany. We arrived in Warsaw around 12:30pm (CET) on May 14. The flight over was uneventful, only involving slightly-above average airline food, a couple of movies, and a meager 45 minutes worth of sleep.
Overall, I was thoroughly impressed with Lufthansa Airlines, and I can safely say the flight from Charlotte to Munich was the best airline experience I've ever had. After customs and a short layover in Munich, during which most of our group occupied themselves at the complimentary coffee machines, we boarded a smaller Lufthansa plane and departed for Poland at 11:00am (CET).
Upon our arrival in Warsaw, we herded the group together and proceeded to the baggage claim and finally the arrivals terminal. Our transportation was awaiting us, so we loaded and boarded our four black chartered Freightliner vans and made our way to Hotel Sofitel Victoria Warszawa, where we checked into our rooms for the next three days. After a short break to wash our faces, brush our teeth, and change clothes, we met in the lobby for our walking tour of Warsaw Old Town.
Our walking tour in Old Town Warsaw began across the street from our hotel at the Grób Nieznanego Żołnierza (Tomb of the Unknown Soldier), which is across the square from the cross honoring Pope John Paul II. We then proceeded toward the more historic district of Warsaw Old Town. The first sight we saw was the statue of King Sigismund across from the castle in which he resided. Our tour guide explained the significance of the upward pointing sword and the cross in the king's hands, which symbolize rising victory and a divinely inspired kingdom.
It is interesting to note that a majority of the buildings in Warsaw's Old Town have been reconstructed after the World War II bombings, but they are almost all true to the original architecture.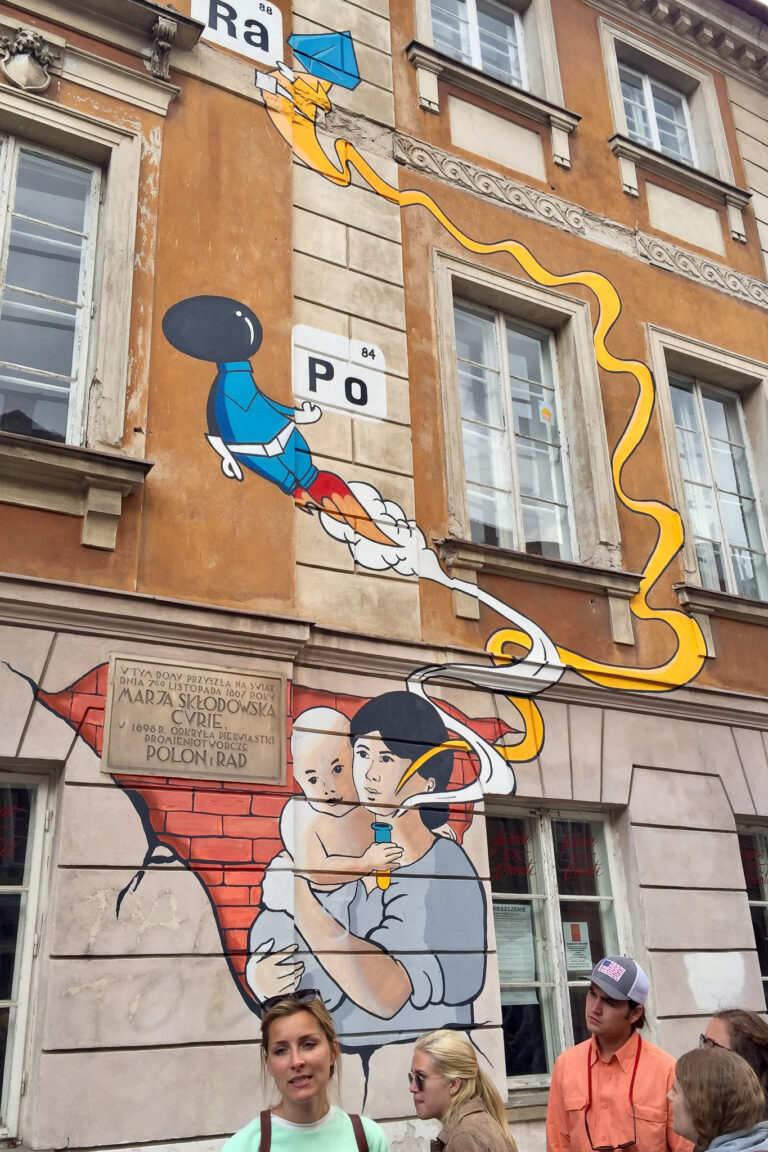 We entered the courtyard of the Warsaw Castle, which features two designs in sets of opposing walls. One set of walls is a light brown 14th century Gothic design, and the other is a white 16-17 century traditional design.
Our trip through old town included a variety of other sights, sounds, and historical facts, including the "wishing bell", an overview of Polish wedding traditions (which seem to all involve vodka), a Cathedral with a royal overhead walkway entrance, various shops and cafés, the home of several famous Nobel Prize-winning chemists and physicists, hidden house façades, and more.
The next leg of our journey took us through part of the infamous Jewish ghetto. We stopped along the way for our tour guide to recall various facts and explain several monuments that document events in the ghetto and during the Warsaw Uprising. Some of the most notable included several of the 22 monuments that mark the fence line for the ghetto. The original fence was three meters high and was topped with barbed wire and pieces of glass, but all that remains are bricks and brass to mark the fence line. This part of the tour resolved at the Warsaw Uprising memorial, which is outside the Polish Supreme Court building. The monument is split into two parts, one of which is hopeful and defiant-portraying Poles going into battle, while the other is more somber-portraying Jews escaping through the sewers of Warsaw during the German Final Solution of 1942.
Our tour of Warsaw Old Town concluded at the Polish Capitol building. This building is famous for two primary reasons: first, because it was home to Heinrich Himmler during World War II, and also because it housed Fryderyk Chopin's earliest performances. There are a number of "musical benches" scattered across the city to commemorate Chopin's musical compositions and achievements.
At this point, our tour had circled back to Sofitel hotel plaza, and we briefly returned to our rooms.
Shortly after 6:00pm our group reconvened and headed out to dinner. One of our trip leaders, Dr. Harris, had made reservations for the group at Podwale Piwana Kompania, a restaurant that serves traditional Polish cuisine. Our meal began with drink orders (turns out that water is more expensive that almost anything else in Poland), three kinds of bread (poppyseed coated baguette, whitewheat roll, and [sourdough?]), kraut, and pickles.
I ordered two things: the Placek po Zbójnicku z Kurczaka lub Wiperzowiny (a potato pancake with pan-fried beef tenderloin, cabbage, and tomatoes) and Pierogi "Wileńskie" z Serem I Ziemniakami (potato and cheese filled dumplings served with sour cream and pork jelly). Overall, the meal was good, and we all left very full.
On our way home, we stopped by a local market to get a granola bar for breakfast, some locally crafted chocolate from Pijalnia Czekolady, and some bottled water. We arrived back at the hotel at around 9:00pm (CET) and concluded our day.