Today marked the third day of our grand adventure across the Northeast. We were all worn out from yesterday's trip to New York City, so we slept in and ate breakfast at the hotel instead of getting an early start. Around 11:00am, we finally checked out of our hotel and headed east to Newport, Rhode Island.
Newport and Middleton are both on an island in the Narraganset Bay area of the state, and are beautiful coastal towns. After we crossed the bridge into Newport, we saw the Naval War College and a good bit of the downtown area before heading to the shore to see the beach and wildlife preserve.
Mom and Dad dropped me off at the Newport Cliff Walk–a winding, rocky path along the shoreline–and I explored about a mile of the coastline before they caught up with me at the Forty Steps overlook.
By this time, we were once again hungry (shocker), so Dad did the Google, and we headed to a place called Newport Lobster Shack for lunch. It was basically a food truck with some picnic tables, but the food was outstanding because they only served what they caught that day – they also had a small seafood market in a shack.
Once again, we opted for the "order almost everything and split it" method, so we placed our order and chowed down. We sampled a whole lobster, a traditional lobster roll (served cold with celery and a mayonnaise sauce), lobster cakes with a spicy dipping sauce (think a cross between a hush puppy and a crab cake, but with lobster), roasted corn, and slaw.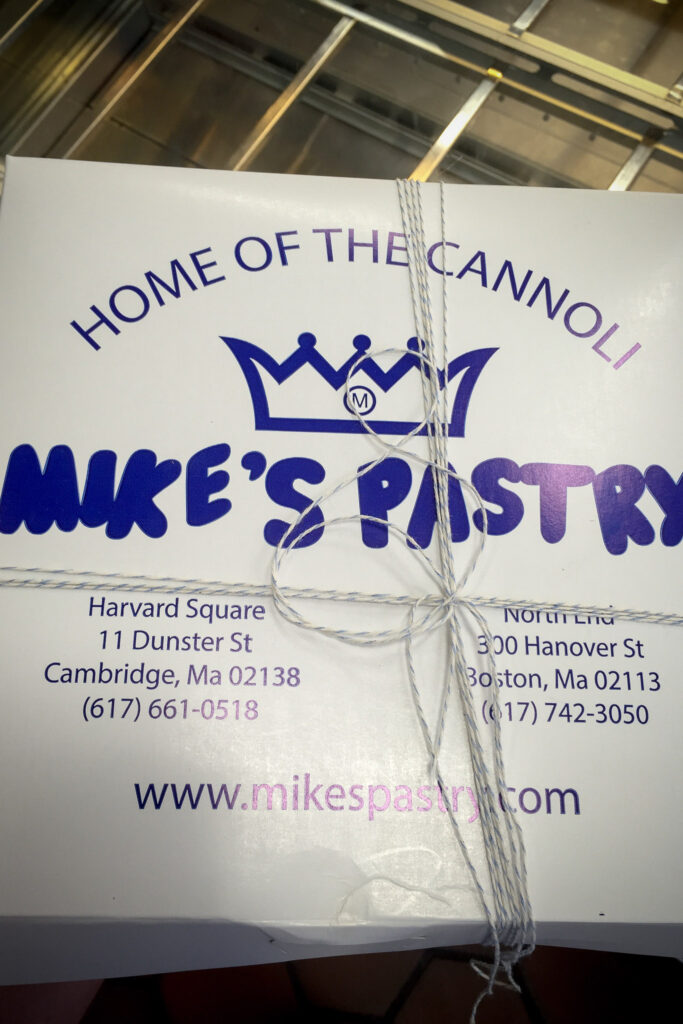 After lunch, we left Newport and headed up the bay through Providence, and enjoyed a nice view of the city skyline from the car. I wish we'd been able to stop, but we were a little low on time. About 50 miles and 1 stop for gas up the road, we could see the Boston skyline. Dad was like a giddy child as soon as he saw the back of the Green Monster on our way into the city.
Once we entered the city, we went directly to Mike's Pastries in Little Italy, just off of the financial district in the North End. Dad was once again giddy. Mike's has been open since 1946 and is famous for all kinds of Italian pastries. Once again opting for quality and quantity, we ordered two Boston cream puffs, a lemon turnover, a cream cheese croissant, a chocolate chip cannoli, and a slice of fudge cake. Yum! It was lots of food, but we devoured every bit. It was definitely the best Italian-style bakery we've ever been too.
After we recovered from our sugar comas, we headed down Atlantic Ave. to the Christopher Columbus Waterfront Park. We easily found a parking spot and explored the Long Wharf area, walked down the Harbor Walk, and snapped a few pictures.
Mom was getting pretty tired again, so she opted to sit on a bench in the park while Dad and I made a lap around a few blocks to see the Old State House and City Hall (Dad took a picture so he can have ideas in case Granite Falls ever renovates).
Dinner - Boston Burger Company
Pretty soon, it was time for food again, so we drove back to the Fenway district and ate at Boston Burger Company. BBC has been featured on Food Network and received rave reviews online, so we were excited to see if it lived up to our expectations. It did. Our order was so grand it's going to require some bullet points to complete, so here goes:
Mom's order: The "Killer Bee" Burger – bacon, a stack of beer-battered onion rings, honey bbq sauce, and american cheese with house-made chips and Boston baked beans
Dad and I split: The "Mac Attack" Burger – homemade 4-cheese mac & cheese and bacon with house-made chips and Boston baked beans AND Pterodactyl Wings – a bowl full of wings coated in a teriyaki/barbecue mixed sauce served with homemade ranch
Our meal was a fantastic closer to a great day. After dinner, we drove to our hotel outside the city in Waltham. On our way out of the city, we got to see the Charles River, MIT, and the Harvard Yard. Tomorrow, we're going to tour Boston, hunt for some Boston cream pie, and see a Red Sox vs. Yankees game in Fenway Park!
A few things to note from today:
We all noted how much nicer and cleaner Boston is than New York. I thoroughly enjoyed it, and really loved the atmosphere more than NYC and Philly. Plus, it's much easier to find parking, and there seems to be a classier selection of just about everything–including restaurants, streets, clothing choices, wildlife, and people.
I mentioned we had roasted corn for lunch. I meant corn on the cob. A rant: it really bothers me that we call ears of corn "corn on the cob" and kernels of corn "corn". That is backwards. That's like calling a dismembered version of myself "Isaac" and normal me "Isaac all together". As such, I refuse to use that term whenever possible.
Dad could not think of the correct term, so we had a good laugh about "parking" boats in the harbor rather than "docking" or "anchoring". He did admit, however, that he only drove by the Naval College in Newport, and never actually learned anything.
I didn't count Mom's Germ-X usages today, but I did count how many times someone heard Dad say one sentence and then immediately asked him where he was from. I counted at least six times.
One way streets are the bane of my existence.
For those of you who've been counting, Rhode Island was our ninth state of the trip, and Massachusetts our tenth. That doesn't include D.C.
*Bonus*: please enjoy the following Snaps (with real, authentic comments)