Today, May 16, marks the fourth day of our travels, and our final full day in Warsaw.
The day began in the best of ways: with a breakfast buffet. Even though it was relatively pricey (65zł), some of our group chose to eat at the hotel's restaurant, but it was worth every penny. It was most likely the best breakfast I've ever had in a restaurant, and all of us left full and slightly delusional from the amount of food we consumed. The buffet had everything imaginable, including but not limited to: crepes and waffles; an omelette bar; traditional eggs, bacon, and sausage; a huge variety of fruits and vegetables; perogies and potatoes; a variety of cold meats; at least 20 different kinds of bread; more than a dozen drink choices; a cheese buffet (!!!); yogurt; a cereal bar; and much more.
After breakfast, we met our tour guide, Anna, in the hotel lobby. We took a quick bus trip to Łazienki Park. The park is home to the Chopin monument and outdoor concert hall, the Palace on the Isle, numerous gardens and fountains, an orangery, Roman baths, royal peacocks, and more. The area was very beautiful and reminded me of home a little.
We walked the grounds of the park for a while, stopping for Anna to note various important landmarks (this took some time, as she was very nice but a little long-winded), and then took a tour of the Palace using some sort of wireless headset. It was a very enjoyable experience, and while it was a lot of walking (20,000+ steps), the scenery and wildlife were very nice and made the soreness of our feet seem worthwhile.
The weather was perfect for a day in the park, and May is the month when the most flowers are in bloom, so we picked a perfect day to visit Łazienki Park.
After our visit to the park, we took a bus back to the hotel and had some down time because many of us were very tired from yesterday and this morning's walking. After about an hour, I met three other students in the lobby and we headed off to Old Town to seek our fortune. First, we visited the church that is dedicated to Pope John Paul II, who is Polish (from Kraków). We left the church (Kośiół pw. Wszystkich Świętych) and began to walk uptown.
We walked through the market for a bit and began to smell something delicious from several hundred yards (excuse me, meters) away, and we decided to investigate. It turned out to be something called kürtöskalács, or chimney cakes, at a booth near the castle called Węrgry. They're basically Transylvanian donuts that are wrapped around a wooden cone so they become chimney shaped. You then unwind it as you eat the pastry. You could order it dipped in chocolate or vanilla powder, cinnamon-sugar, or coconut. I chose cinnamon-sugar, and it was excellent.
We ate our pastries while watching six teenage Polish street performers break dance. It was one of the most impressive things I've ever seen. I recorded a video, and I will upload it once I am back in the United States.
Our group decided we wanted to visit Praga, which is a district of Warsaw on the northeast side of the River Vistula. It is known for it's [even more] relaxed atmosphere and it's street art. A good depiction of the area would be a Polish-speaking Asheville, but with a more beachy culture, filled with California-style food trucks/shipping containers and riverside bars with sprawling wooden decks. A local we met had specifically recommended a restaurant called the Bazaar, so we had decided to eat there once we arrived in Praga.
Sadly, we never found it. We had a bit of difficulty crossing the river. We did not want take a taxi for fear that the driver would "run us around" since we were foreigners (which means to take a unnecessarily long route so our fee is high), so after asking around, we decided our best option would be to take a tram. Unfortunately, we never could find the tram station. Even between consulting a map and asking the locals, nothing/no one could tell us where to purchase tickets or find a tram station. Rather than giving up, we decided to take the Metro.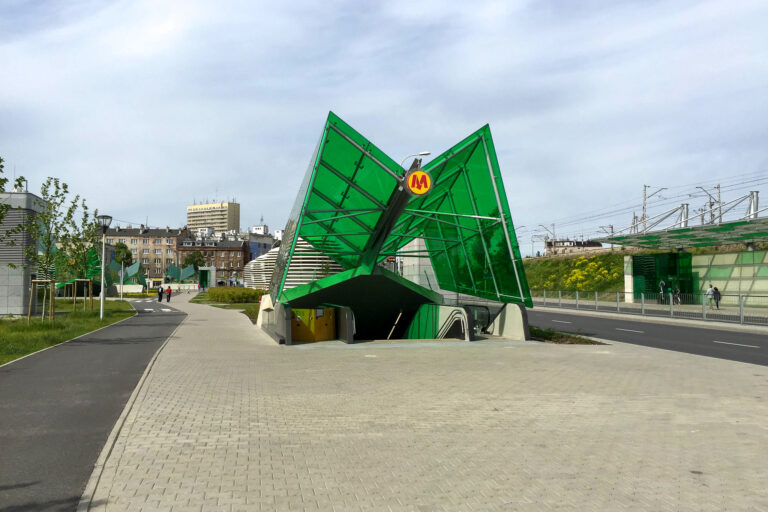 Warsaw's Metro system is by far the cleanest and most well organized subway system I have ever been in. It even smelled clean. We purchased our tickets, and then a Croatian college student we met helped us find the correct platform and route. I was highly impressed that a train comes about every five minutes, so there is no rush or crowding. Two quick stops later, we exited the Metro right by the Stadion Narodowy w Warszawie, which is the national stadium. It is know to locals as "the swimming pool", but that is too long of a story for me to tell on this blog. We walked around for a couple hours, but were unsuccessful in discovering our destination. However, we did discover a river-beach, a Greek tavern, several street vendors, and a high-class go-kart track.
We finally gave up on finding the Bazaar, and decided to head back to Old Town to find some dinner. Upon our return to the other side of the river, we were so hungry we simply ate at the first place we found that didn't look overly crowded. It was called Browarmia Królewska, which as best as I can figure translates to "[some kind of Polish] brewery" (I believe the brewery was in their basement). I ordered a pork filet (Polędwica wieprzowa) with potatoes, tomatoes and onions. Our group finished the meal by splitting a Warsaw-style crème brûlée.