Today was probably my favorite day of the trip so far. We woke up around 5:00am, got dressed, grabbed a quick breakfast in the hotel lobby, and drove up the coast through Augusta and Bangor to Mount Desert Island, wherein lies Acadia National Park. There was so much to do in the park, I hardly know where to begin.
After purchasing our park pass at the visitor's center, we began our day at Cadillac Mountain, which is the highest mountain bordering the Atlantic on the eastern coast of North America. Its peak is 1503′, which doesn't seem high compared to the Blue Ridge Mountains; however, the mountain towers since it is next to the ocean. The summit is rocky and mostly barren, so the area is perfect for exploring and scrambling around on the rocks.
We spent several hours exploring on the mountain, and then headed out of the park to the nearby village of Bar Harbor to grab some lunch. We ate at Stewman's on the waterfront, and each ordered a lobster roll with sweet potato fries, split a cheesy seafood dip for an appetizer, and split a piece of fresh Maine blueberry pie for dessert.
Bass Harbor Head Lighthouse
After we finished the Park Loop Road, we headed around the Somes Sound to the other half of the island to see the Bass Harbor Head Lighthouse, which is still fully operational and maintained by the USCG and the Department of Homeland Security.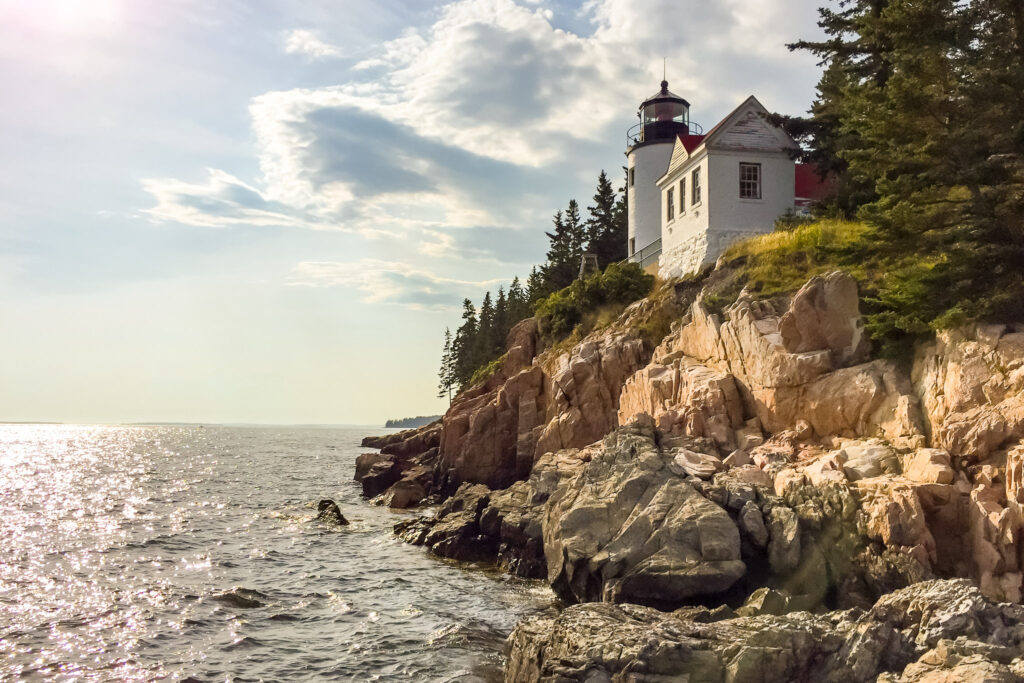 The lighthouse was our last scenic stop for the day. We headed back to Bar Harbor and ate dinner at the Side Street Cafe, which we all agreed was probably our best meal of the trip. Mom and I got lobster rolls (again, except I got a hot roll instead), and Dad got a picked lobster dinner with clam chowder. We split two more pieces of Maine blueberry pie for dessert. After dinner, we walked around the streets of Bar Harbor and went in a few stores before starting the long drive back to Portland.
As I'm finishing this post, it's a little after 1:30am, meaning we've had a 20.5 hour day. I won't write too much more, but I did want to at least include this picture:
Unfortunately, that was our only moose sighting of the day. I was very disappointed. Maybe we can see one tomorrow as we drive through New Hampshire, Vermont, and upstate New York on our way to Niagara Falls. A few other things for your entertainment:
Sometimes in crowds, instead of trying to fight through and say "excuse me" repeatedly (or some other polite phrase that people usually ignore), I will try yelling phrases in another language (usually Polish because I know a little bit from my trip there, and it's utterly incomprehensible) just because it usually gets people's attention at a higher rate.
Whereas we usually have "deer crossing" signs, in Maine they have "moose crossing" signs.
On the way home tonight, we saw at least four shooting stars. 
Mom was walking back from one of the overlooks and crossed paths with a snake. That did not bode well with her, as you can probably imagine. She stayed in the car for the next several overlooks until she was able to regain her courage.