This morning, we awoke in Bern as we began the eighth day of our travels in Europe.

Breakfast - Hotel Waldhorn
First, we ate breakfast at Hotel Waldhorn. As a way to promote tourism, all travelers spending the night get a free Bern Ticket, which gives you free public transit, as well as access to two funiculars and an elevator to the top of Berner Münster, the city's massive cathedral. [We forgot about the cathedral part; we'll get to that later…]
Immediately after breakfast, we checked out, and walked from our hotel to the old town of Bern, which took about 15 minutes. The weather was nearly perfect today; one could wear a long-sleeved shirt and no jacket and be comfortable walking the hills all day. We spent the better part of the day walking around Bern and seeing the sights in this picturesque city.
Bern is the capital of the Swiss Confederation, and of the canton of Bern. It is the nation's fifth-largest city, with a population of ~660,000. Bern, founded in the 1100s, is the city of the bear. The city has kept live bears since the 1440s, and currently has a large riverside park, Bärengraben, that houses four brown bears. Since the bears now have a more spacious home, the former medieval bear pits house a gift shop and performance venue.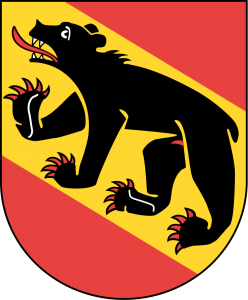 Coat of Arms
The river Aare, a tributary of the Rhine, curves through the city. Pedestrians often swim in the river on a hot day.
Most of the city has stone promenades. These are original from the 1400s, when they replaced wooden buildings after a widespread fire. You can walk throughout the entire old town without ever stepping out into the weather.
Bern is often called the city of fountains, with 700+ water fixtures, almost all of which are potable.
The city of Bern's namesake is an ancient word for bear. During medieval times, the citizens kept bears in a pit in the middle of the city. Now, the city has built Bärengraben on the edge of the river, with plenty of room for three brown bears to roam, play, eat, and sleep. Under these conditions, bears will actually live 50% longer because they have access to better nutrients and medical care.
We visited the bears twice: once in the morning and again in the afternoon.
Trying to get comfortable...
Before we headed back to the city center, we took a walk up the hill to Rosengarten to take in a nice view of the city.
The Zytlogge is a medieval mechanical astronomical clock that was once a guard tower and a prison. The city finally converted it into a clock tower after the Great Fire of 1405. We arrived at the tower just before noon, and witnessed the mechanical display on the hour. It's very impressive technology, considering its age!
Climbing all those steps made us quite hungry. We descended from the tower, and walked down to Marktgasse (Market Street), and browsed through the local market, picking up a variety of delicious free samples, and some not-so-delicious-and-very-spicy tapenade. We bought a Süss from Gateaux du Vully, which was a sweet butter cake topped with toasted almonds and served warm.
At a local bakery, we bought three items to split: a pretzel cut in half and filled with butter, a croissant-shaped pastry that was filled with a cinnamon mixture, and a Madeline sandwich filled with apricot jam and dipped in chocolate.
We walked around a bit more, saw the Swiss Parliament building (Bundeshaus), and then dropped in a Migros restaurant (think restaurant section of Whole Foods) to grab two sandwiches: a tomato-arugula-parmesan and a salami-olive-cheese to eat later. We also got a mini-waffle from a street vendor for an on-the-go snack. Nearby at the main transit interchange (Bundesplatz), we caught the #9 streetcar back to our hotel – about a 12 minute ride. I nervously maneuvered the car out of the underground garage, and we returned to the roadways.
From the outset of this trip, we were determined to visit all six countries on our list. [If you're keeping track, we've only been to three so far, and it's now Day 8 of our trip.] Our original plan was to visit the picturesque lakeside citys of Lindau/Konstanz, Germany Monday. However, in an effort to cut down on drive time, and to be able to more thoroughly explore Appenzellerland, we'll unfortunately have to cut Lindau and Konstanz from our itinerary.
Fortunately, we had to drive through Germany to get to our next destination, so we still get to check the country off our list! We tried to find a place to take a picture with a German flag, but apparently the Germans are not as proud of their flag as the Swiss are.
About an hour later, we arrived near the towns of Schaffhausen and Neuberg, and as we parked our car, we could hear the thundering of water in the distance. The Rhine Falls (Rheinfall) are Europe's largest waterfall by volume, at 490'/150m wide and 75'/23m high. It was a very impressive site, but just about as touristy as Niagara Falls, so we continued on our way towards our hotel in Kloten, just north of Zürich. We also saw an enormous mastiff there.
In Pfungen, we stopped at a Swiss fast-food restaurant called Chickeria, which specializes in rotisserie chicken and fries. It was very good, and even beat out Chick-fil-A in our minds (which is really saying something)! I got a half-chicken and Faith got a basket of drum-ettes. We attempted to go in the Migros next door to buy some chocolate, but it was already closed at 18:00 on a Saturday.
If I haven't mentioned it already, Switzerland [for the most part] comes to a screeching halt from 18:00 Saturday to 10:00 Monday morning. I'm sure it's nice for them, but it's very frustrating for anyone trying to make even a simple purchase during that time.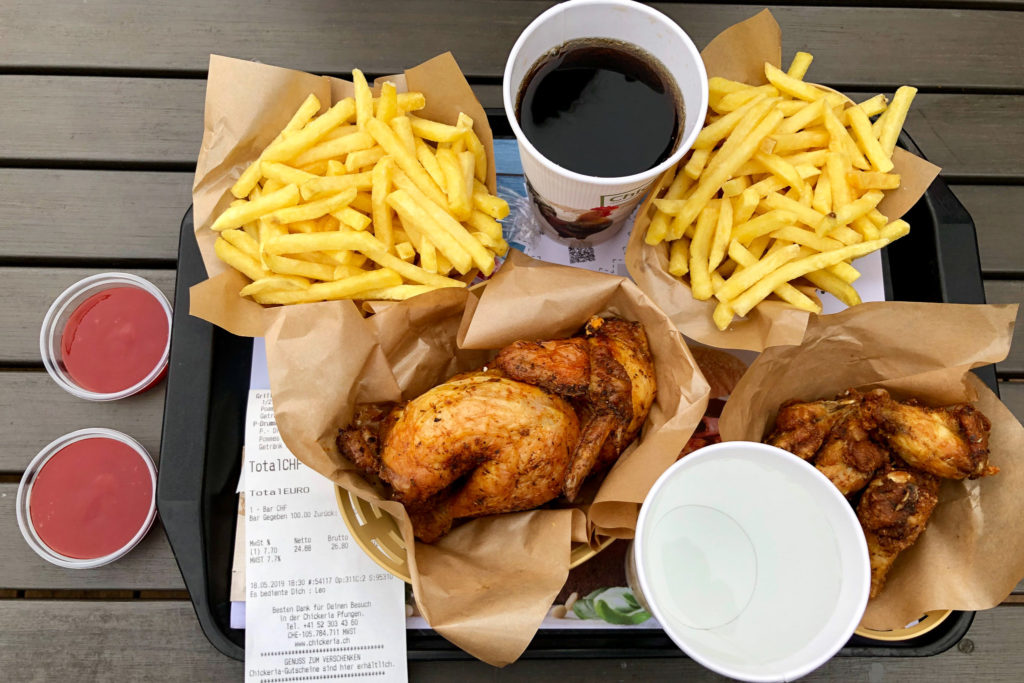 We managed to find a Co-op gas station that was open, so I filled up our rental car, and then we went in an adjacent Aldi Suisse that was thankfully still open for a bit longer. We picked up some Callier dark chocolate and two lemon yogurts for later, laughed at two tween boys who tried to sell us a plastic toy they found on the ground for CHF2.00 "because we were American", and then continued on our way to the hotel.