Drive from Geneva to Chamonix
We landed in Geneva, made our way through customs, collected our baggage, and walked to the ChamExpress booth on the main concourse to catch our shuttle bus to Chamonix, France (the closest city to Mont Blanc). Our professors missed their connecting flight and had to reroute through Heathrow, but Dr. Bulla texted me our travel info, and we were successfully able to navigate the airport and arrive at our transportation hub on time.
The drive over on A40 was beautiful. We were able to enjoy the Alps, several waterfalls, many under-mountain tunnels, and some other interesting scenery. It is certainly a beautiful area. We headed through a very brief French border checkpoint and several tolls, but the drive was relatively uneventful.
We arrived at our hotel, checked in, and settled in our rooms. We have apartment style rooms, which are extremely nice and very modern. Our hotel is two separate buildings–one backs up to the river, and both have a view of the mountain.
We decided to go explore the town for a bit, and then meet back at 11:30 for lunch. We split off into several groups, and walked around Chamonix for a bit. I can say without question that this is the most beautiful place I've ever been. The mountains are unbelievable, and pictures simply don't do it justice.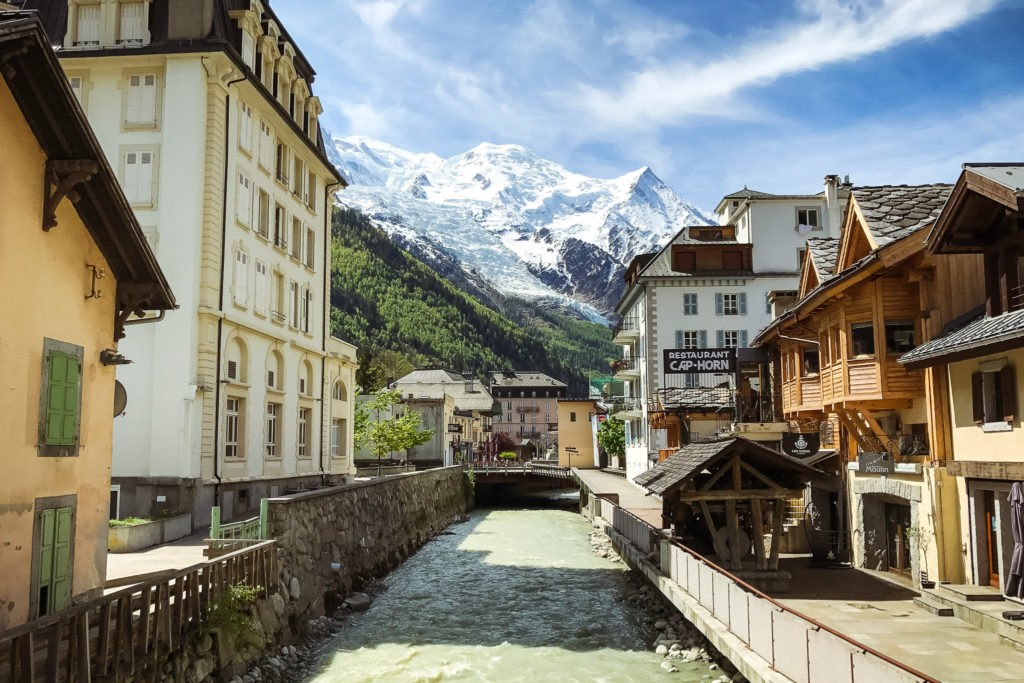 Restaurant Le Pitz Brasserie
We met back at the hotel for lunch, and walked downtown to a place called Restaurant Le Pitz Brasserie. I ordered Gallette La Savoyarde, which is a French cornmeal based dough with ham and cheese inside. The cheese was very strong, but it was good, especially after a long flight.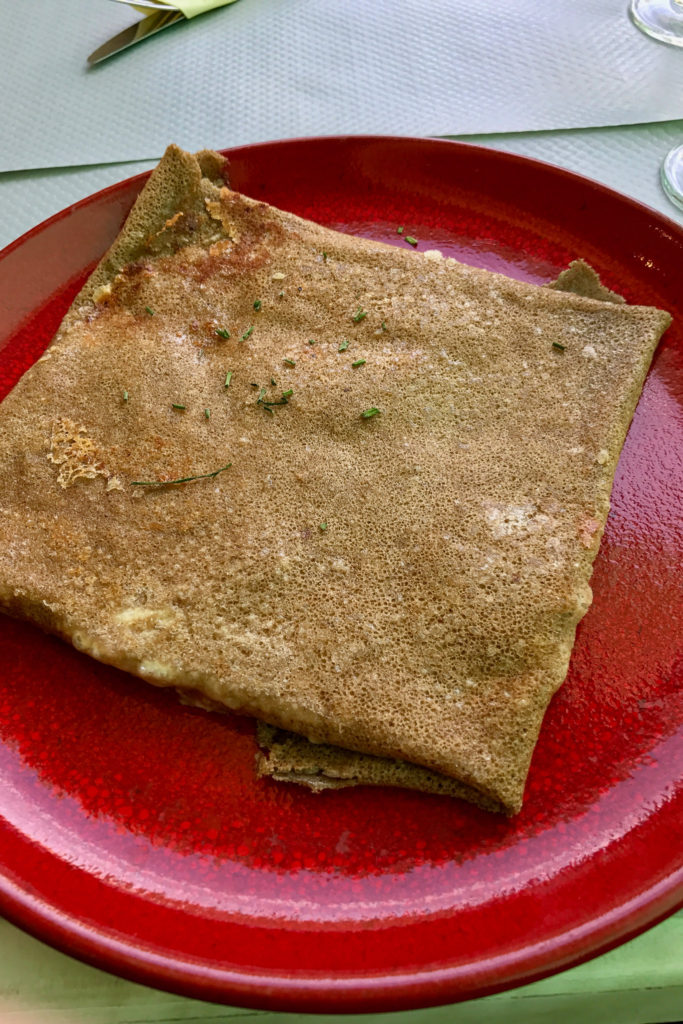 After lunch, we walked around the town some more, and eventually joined up with another group. We stopped at a small bakery that had piles of French macaroons on display in the window. Cole, my roommate for this leg of the trip, and I ordered one of every flavor and decided to split them all 50/50. The man said no one had ever ordered one of every flavor before, and was so excited that he gave us a free (ordinarily very expensive) dark chocolate bar! Some of our other friends also got macaroons and chocolates.
So far, I have tried half of the pistachio, café, chocolate, orange with chocolate filling, and what I think was cherry…maybe. All were excellent, especially the cafe and chocolate.
We met our CREA representative, Hillary back at the hotel, and she took us over to meet a local tour guide, who took us on a walking tour of the city. We learned so many interesting things; I will list a few here for your enjoyment:
Chamonix was not part of France or Italy for many years; it was its own kingdom. The Italians and the French divided the border in the 1860's, but it is still disputed because Italian maps show the border as the watershed, while French maps use the peaks of the mountains.
Chamonix is an extremely popular skiing, hiking, climbing, and trail running destination. Almost the entire economy of the town is based on the outdoor tourism industry.
The cable car to the top of the mountain was placed by hand by 30+ men in 1950. The cable weighs over 1.5tons and is over 1km long. (We get to ride it to the top later this week!)
There are 101 glaciers in the French, Swiss, and Italian Alps.
Once, one could see many glaciers from the city of Chamonix. Now, they have receded so much that only one or two are barely visible. We will be exploring the glaciers later this week. I am surprised how much the locals talk about how much the climate and glaciers have changed.
There is a cog railway (the terrain is so steep that a normal non-locking railway would slide backwards on the tracks) that goes up the mountain. We will get to take that as well.
Chamonix and Mont Blanc (the White Mountain) were named by two British explorers.
It takes over 6 years of training to become a mountain guide, and even then only 25% make it in the long run.
If I haven't mentioned, Mont Blanc is over 15,000′ high. In the pictures below, it is just below the highest rocky point on the left (it is actually the highest point, but this photo misrepresents the locations of the peaks).
The river in the town, Quai du Vieux Moulin, eventually runs to Geneva. It is a unique shale color because the water runs through the sediment under the glacier. It is not contaminated; it is merely high in sediment and minerals. The color changes with the season.
After our tour, we briefly visited a gift shop, and then headed back to Hotel de l'Arve. We met for a class meeting at 18:00, since our professors had finally arrived after fighting the airlines.