This morning we overslept and woke up later than intended, around 07:10, in Lauterbrunnen – the heart of Berner Oberland, as we began our second day in Switzerland.
We got dressed and headed down to our hotel lobby to grab some breakfast.
Our plan was to take the first train up the mountain at 07:37, but since we overslept, we took one about an hour or so later.
Breakfast - Hotel Oberland
About an hour and a half later, we arrived at Jungfraujoch. The views were breathtaking. While it was overcast in the valley below, we were now high above the clouds, and the sun was shining brightly. It was not a good day for me to forget my sunglasses…
When viewed from the west, the Eiger, Mönch, and Jungfrau sit from left to right. The etymology is quite fascinating: the Mönch (monk) is protecting the Jungfrau (maiden/young woman) from the Eiger (ogre).
These three peaks lie just a few miles northwest of the Alps' largest glacier, the Great Aletsch Glacier (Grosser Aletschgletscher), which is over 14 miles long.
Since the Eiger's north face was successfully climbed in 1858, at least 64 climbers have died attempting to scale it.
We explored the observatory for a while, and closed our journey with a venture out onto the snow for some pictures.
We thought about getting lunch at the top, but after seeing the prices, decided to venture back the valley instead.
It was clearing up just a little on the train ride down, so the views were a little better. We met a group of four people about our age from Alabama, and had a lively conversation with them on the way down.
Now back in Lauterbrunnen, we stopped at the local grocery store, Co-op, to buy a quick lunch. We got some dried beef and salami, some delicious local cheese, and yogurt. 
While I'm thinking about it, here's some more info on the Berner Oberland.
The Berner Oberland, also known as the Bernese Highlands or Bernese Oberland, is the southernmost (and highest) of the five districts of the canton of Bern. The residents speak the Highest Alemannic German dialect, which has many different plurals than Bernese German and has more "n" sounds.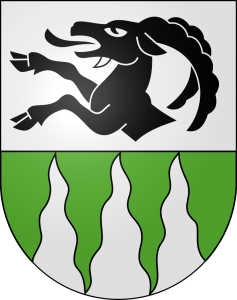 Lauterbrunnen Coat of Arms
The Romans, who used various nearby mountain passes, first settled the area. Three main peaks protrude from the southeastern wall of the Lauterbrunnen valley: the Eiger, Mönch, and Jungfrau. These three peaks form a highly recognizable landscape, visible from many miles away on a clear day.
After lunch, we drove to Trummelbachfälle, a waterfall that is actually inside the mountain. A funicular took us about halfway up; we walked the rest of the way up, and then walked back down. The waterfall was enormous and thundering, and was quite the site to behold. We came out slightly wet from the spray and water drippings.
Next, we left Trummelbachfälle and drove almost to the end of the Lauterbrunnen valley to Stechelberg to take a cable car up to the villages of Gimmelwald and Mürren. Gimmelwald is a traditional alpine village and has maintained its historic state by getting itself declared an "avalanche zone", so no modern buildings can be built in the village.
Gimmelwald had several self-service food stations where hikers could buy snacks or locals buy essentials like eggs or milk. We bought a package of beef wurst to eat later.
After exploring Gimmelwald for half an hour, we took the cable car up once more to the larger, more modern village of Mürren. Locals and workers access these villages by very steep roads, but only when necessary because they are dangerous. All pedestrians and tourists must park at the bottom and use the cable car, often hauling luggage to their hotels high above.
Dinner - Restaurant Stägerstübli
By this time, we were very hungry for dinner, so we stopped at Restaurant Stägerstübli in Mürren for dinner. I got Rösti mit Käse überbacken (hash browns smothered in cheese), and Faith got Rösti mit Käse überbacken (hash browns with vegetables). We each got an espresso to go with our meal.
After dinner, we explored Mürren a bit more, and then hiked back down to Gimmelwald to take the cable car down from there. It was a very pleasant hike; we saw great scenery, alpine farms, and even a wild chamois on the path. We made the cable car with no time to spare (we had to run a little at the end).
Now back at our car at the bottom of the valley, we started the ~8min drive back to our hotel in the town of Lauterbrunnen. Along the way, we stopped at a dairy farm that had a fresh milk dispenser. You drop in some coins, place your personal container under the spout, and the machine spouts cold milk, fresh from the farm that morning. The milk was deliciously sweet and buttery. We took it back to the hotel, where we enjoyed it while settling down for the evening. It was now ~20:00.
Unfortunately, tonight is our final night in Lauterbrunnen and the Berner Oberland. Tomorrow we drive to Valle d'Aosta in Italy. We both agree we didn't allow nearly enough time for this area, but maybe we can return one day. It is very expensive though, so I'll be glad to get out of Switzerland for a few days.
That's all for today! See you tomorrow from Italy (and a little more of Switzerland).