Today we leave the Berner Oberland and head southwest to the Rhône Alps. We'll pass through Sion and traverse through the Great St. Bernard Pass to the Aosta Valley (Valle d'Aosta) in the Italian Alps.
Our departure from Switzerland is only temporary, however. We'll return in a few days. After crossing the border and spending some time in Italy, we'll take the Tunnel du Mont-Blanc underneath the 'White Mountain' into France. After a couple days in the French Alps, we'll travel back to Swizerland and slowly make our return to the eastern part of country.
Does this sound vaguely familiar? It should. I traveled to some of these places (except in reverse order) two years ago, almost to the day. Click here to read about that trip.
Breakfast - Hotel Oberland
Once again, we ate a Iight breakfast at Hotel Oberland, and checked out of our room. We drank the remainder of our fresh milk from the night before, and sliced up our beef wurst and put it in a bag for a snack later today.
Leaving Lauterbrunnen, we traveled north to Interlaken, west to Spiez, and then south to Kandersteg.
In Kandersteg, we drove our car onto a train, to travel through the Lötschberg Tunnel underneath the mountain to the Rhône Alps.
Basilique de Valère // Château de Tourbillon
Forty minutes later, we arrived in Sion, found a car park, and hiked to the Basilique de Valère and Château de Tourbillon – a church and castle on adjacent hills. It was a painfully steep hike, but we finally made it to the top of both, enjoyed a few exhibits at the Basilique, and then headed back down the to town center of Sion. On the way up, we ate our beef sausage; it was strong but excellent.
Basilique de Valère is a fortified church that sits high on a hill near the middle of Sion. The original church structure was built between 1100 and 1130 AD.
The Basilique's organ has been there since 1435, and is one of the oldest functioning organs in the world. It was slightly modified in the 1700s so it could play Baroque music.
The Château de Tourbillon is a castle on a hill adjacent to the Basilique, . The Bishop of Sion, Boniface de Challant, built the castle in ~1290-1308 as his primary residence.
Despite a fire, the castle's frescoes remain intact. Valais restored the castle in the 1960s, and it stands today as an official 'Swiss heritage site of national significance'.
We wrapped up our tour of the castle and finally started walking downhill for a change, as we headed back towards the city center of Sion.
Sion is a neat little town in the French speaking region of Switzerland. We quickly forgot we were even in Switzerland; it almost seemed we were already in France. It felt like a completely different country from the Berner Oberland region.
Sion sits in the canton of Valais, with a population of ~35,000. It's one of the oldest and most significant prehistoric site in the region; archaeologists have discovered settlements dating back to before 6200 BC! Sion was the capital of the Seduni, one of the four Celtic tribes of the Valais. Both Julius Caesar and Caesar Augustus wrote of the city at the end of the 1st century BC, and the Romans built baths there.
Sion's Coat of Arms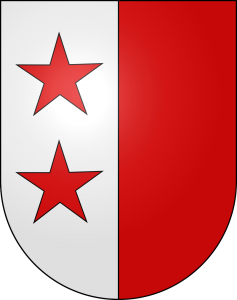 82% of the residents speak French as their first language, followed by German and some Portuguese.
Sion narrowly lost a bid to host the 2006 Winter Olympics to Turin, Italy.
The Canton of Valais [see map below] is in the southwestern corner of Switzerland, bordering Italy on the south and France on the West. It's capital is Sion, which sits on the Rhône in the northern center of the canton.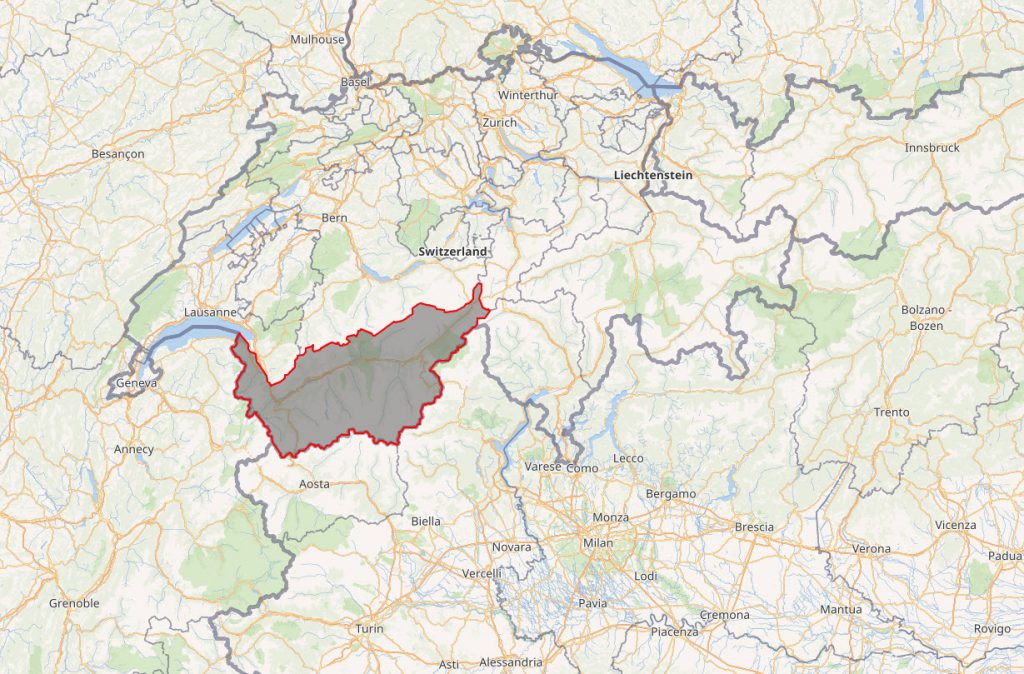 This Canton is the third largest in Switzerland. The Rhône flows through it's center separates the Bernese Alps in the northeast from the Pennine Alps on the Italian border.
Valais Coat of Arms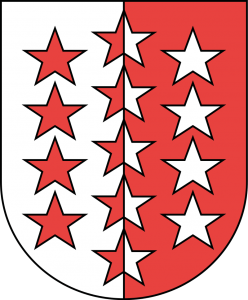 Valais is a canton of contrast. It contains some of the highest peaks in the Swiss Alps, and gentle plains and hill; it also has some of Switzerland's wettest and driest areas. Three of Valais' most famous peaks are the Dom, Matterhorn, and Weisshorn.
We stopped at a boutique that sold tea, soap, and other house goods; a nature museum devoted solely to butterflies; and a cheese store. By this time, we were getting a little hungry, so we dropped in Boulangerie Le Délice du Grand-Pont, a French-style bakery in the shopping district.
We split a salami sandwich and a Callier chocolate croissant, and each got a cappuccino. Then, we got a vanilla creme-filled pastry and a shortbread pinwheel to split as we walked around the town.
Great St. Bernard Museum // Martigny
Next, we drove about 20 minutes west to Martigny to go to the St. Bernard Museum. I had been before, but Faith had not. It was a great experience, and we even got to pet a dog! I was a little disappointed that there were no puppies this time around.
The dogs are so strong that they can survive over 48 hours in the snow with no food or water, and can carry a grown man on their backs for great distances without stopping. St. Bernards are a cross between a Danish bull and a mastiff.
The Great St. Bernard Pass goes through the Pennine Alps from the Swiss canton of Valais to the Italian region of Aosta. It is the third highest mountain pass in Switzerland.
Saint Bernard of Menthon founded a hospice for travelers in the pass in 1049. The dog breed and the mountain pass are both named after him.
The Great St. Bernard Tunnel, which opened in 1964, goes underneath the pass. Before its construction, there was no quick way to travel from Martigny to Aosta. The Pass, above the tunnel, is open from June-October, but even then is often closed for weather.
We checked into our Hotel, La Roche, which is just north of Aosta, up the mountain a ways. It's very nice, and by far the cheapest of all our hotels, at less than 60€, including breakfast tomorrow morning.
We took our luggage into our rooms, changed shirts, and drove down into the city of Aosta to seek out a place to eat dinner. This was by far the largest downtown we've been to, with many winding, twisting, and turning streets and narrow alleyways.
The center of the city is completely traffic free (you must park outside and walk in). Faith and I walked around the town for a bit until most of the shops had closed at 19:30. We also stepped in the local cathedral to snap a photo.
Per the recommendation of our hotel, we ate dinner at Aldente, a restaurant that features local specialties from Valle d'Aosta.
We got a few dishes to split:
Assiette – an assortment of lard, mocetta, boudin, and chestnuts with honey; fontina, toma, and bleu cheeses
Crespelle – crepes with ham and fontina cheese, baked with a béchamel sauce
Fresh spaghetti with lamb ragu, with thyme and sweet dry-fried red peppers
Carbonada – beef cooked with wine/onions/spices/juniper berries, served over polenta
Gianduja with caramel and minced almonds, plus two shortbread cookies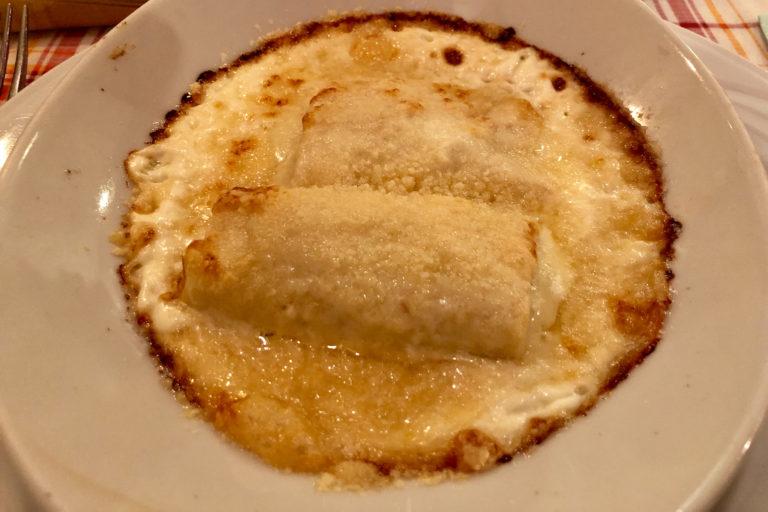 As is the case with most Italian restaurants, we got way too much food, but it wasn't terribly expensive, especially compared to Switzerland. The total bill would equate to food for one person in a Swiss restaurant. The waiter even gave us a free espresso to split at the end of the meal. [It was VERY bitter – even for espresso. Faith chugged it and was shaking from the caffeine later.] The food was very good, but I think the food I had last time was better. Still, it was worlds better than anything you can get in Boone…
Late
Sorry this post is late; our Internet access wasn't good enough to upload photos, so I had to wait until we got to Chamonix.
After dinner we drove back up to our hotel, showered, and headed to bed. I'm exhausted, so we're hoping to sleep in [a little bit], eat breakfast before 09:00, and go to two large waterfalls in the Valle. If we have time, I hope we can go back to downtown Aosta to eat, get gelato, and go in a few stores. Tomorrow evening, we'll drive under Mont Blanc to Chamonix, France, where we'll spend the next two nights.