Today began as all great days should begin: by sleeping in and then visiting a bakery. We slept in considerably because of our travel late last night after the game; we finally left the hotel sometime around 11:00am.
We walked about a block down the street to Standard Baking Company. You may remember that we visited a bakery in Boston that was ranked #3 in America by USA Today. Well, on the same list, this Bakery was ranked #1. When we first walked in, I was very unimpressed. The selection was small and the pastries honestly didn't look like anything special. The only thing remotely notable was the smell, which smelled like any old bakery one might walk into. However, I trusted the experts (although, I do consider ourselves amply experienced in the bakery department) and placed an order of faith.
Since Standard didn't have any seating, we grabbed our bag of pastries, walked back to the hotel lobby and broke bread, so to speak. Since this was to suffice for breakfast and lunch, we ordered five things and split them.
Wow. Some of the best pastries I've ever had, especially the "Morning Bun" (a sticky bun) that Dad ordered. They were light, fluffy, not dry, and full of flavor. I felt like I should walk back down to the bakery and profusely apologize for once doubting their pastries. I can see how they earned the #1 in America rating.
After breakfast, we hopped in the car and drove through South Portland to Cape Elizabeth and Two Lights State Park. It was raining, so Mom stayed in the car–we decided we would come back later once the weather cleared up–while Dad and I explored the shoreline for a while.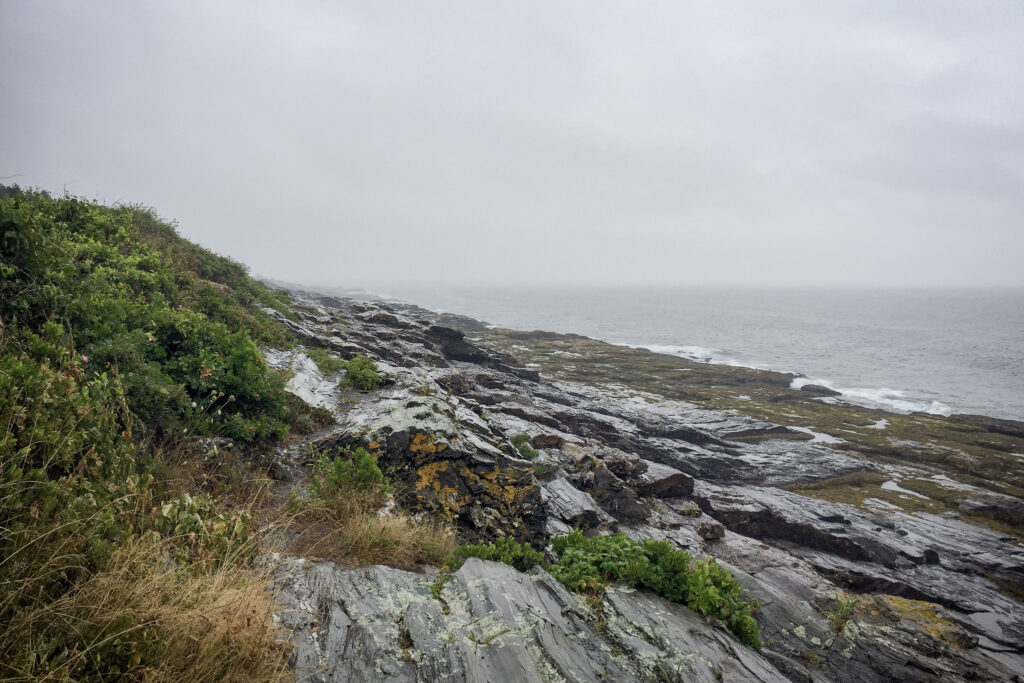 Lunch - Portland Lobster Company
Once Dad and I made it-drenched-back to the car, we headed back across the Casco Bay into downtown Portland, and stopped at a the Nova Scotia Ferry (CAT) station to pick up some maps of the area and see the Portland port. Dad and I were tired and hungry from climbing around on the rocks for the past hour or so, and it was getting close to 2:00pm, so we decided to head back to downtown to grab a bit to eat.
We found a parking spot and walked across the street to the Portland Lobster Company. Mom ordered salmon with a honey-soy glaze, and Dad and I split a lobster roll and a crab meat roll. All our food came with corn and sea-salted fries, which were some of the best fries I believe I've ever had. The rest of our food was excellent too.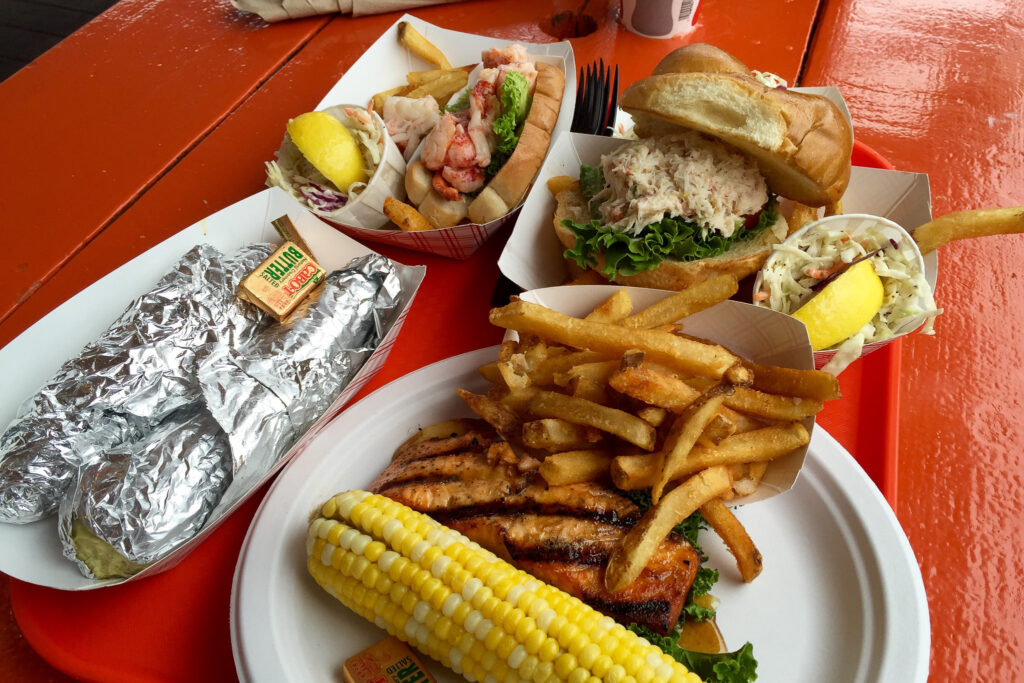 After lunch, Dad and I spotted a Cabot Farms cheese store, so of course we made a beeline for the entrance rather than going back to the car. They had a cheese sampling buffet! It was wonderful. We tried well over a dozen different types of cheeses, plus a variety of dipping sauces and some spicy maple syrup. I bought a cheese slicer, which I am affectionately referring to as my "cheese hatchet".
After we had eaten our fill of cheese samples–actually, let's be real–after we felt like it would be impolite to eat any more free cheese samples, we headed back to the car and drove back across the bay to Fort Williams Park to see another lighthouse, the Portland Head Light. It was very picturesque and beautiful. I didn't realize this, but the island you can see [in the background of the picture below] is actually Canadian land! It's considered part of Nova Scotia, and so is the smaller lighthouse out on the water. I couldn't believe we were that close, but their sea border apparently stretches fairly far down the Maine coast.
Heading south, we went back to where Dad and I explored earlier today. We thoroughly enjoyed the views, and after walking around some with Mom, Dad and I climbed down on some of the rocks to take some pictures.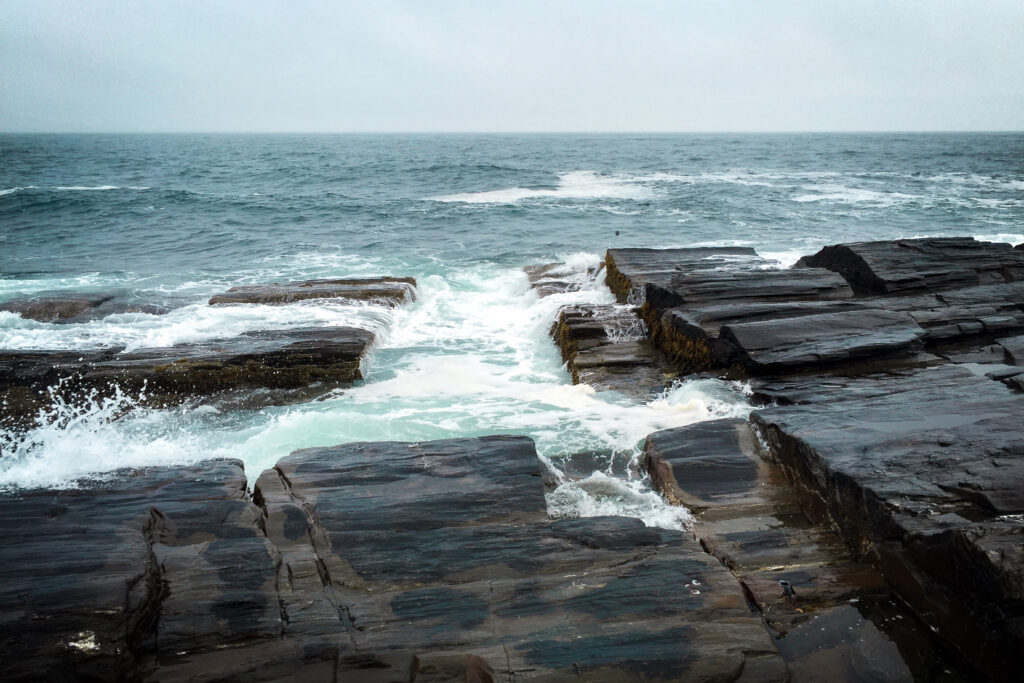 We stayed at Two Lights until the park closed at 7:30, and then headed back to the city. We stopped at Old Port Slice Bar and Ice Bar to grab a quick slice of pizza, and then went searching for some dessert. I stopped at The Gelato Fiasco and got a small sampler cup with about 10 flavors in it (they were all incredible!), and Mom and Dad walked down the street to get homemade ice cream at Beal's Old Fashioned Ice Cream. Of course, I couldn't let them eat alone, so I got a kiddie cone for myself as well. After dessert, we headed back to the hotel and settled down for the evening.
Tomorrow morning, we're leaving at dark-thirty to head up the coast to Acadia National Park on Mount Desert Island. This is the part of the trip that I've been looking forward to the most, as the Park has always been on my bucket list. Also of note: I would very much like to see a moose in the wild. If you thought I was kidding about this being a "moose hunting" trip, I wasn't. Except for taking the "hunting" part literally. Since we have to wake up so early, I will once again forego posting an additional section, but I promise I'll catch up on those sometime soon.