Welcome to Part II of my Brazil recap. In this post, I'll talk some more about two staples of Brasilian culture: futebol (soccer) and comida (food).

Café da Manhã (Breakfast)
Brasilian breakfast isn't particularly different from American breakfast, save a few unique items. Eggs are extremely common (Brasilians love them so much there's often a shortage), as are fruit and pastries.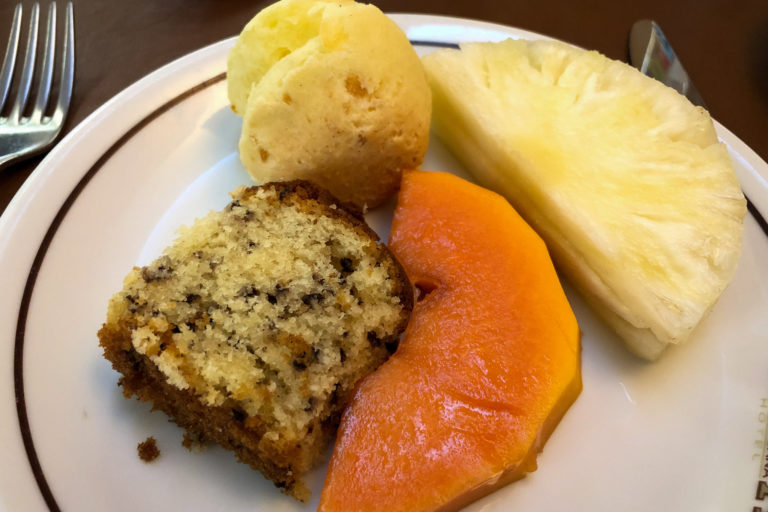 The fresh fruit was incredible! Abacaxí (pineapple), manga (mango), mamão (papaya), and melão (melon, including watermelon and white melon) were everywhere. By far, my personal favorite was the papaya.
Like in Europe, deli meat and cheese are popular, but unfortunately neither one is particularly spectacular. European visitors often joke that the cheese is "plastic", and I'd agree – it's rather flavorless. The best cheeses in the country are Parmesan and mozzarella; these are obviously borrowed from Italy.
sobremesa/Doces (Dessert/Sweets)
One night, we had creme de papaya for dessert. This popular Brasilian dessert is simple: papaya and ice cream blended together. It's topped with blackcurrant flavored crème de cassis. This was definitely my favorite dessert from the week, and maybe my favorite South American food I've tried.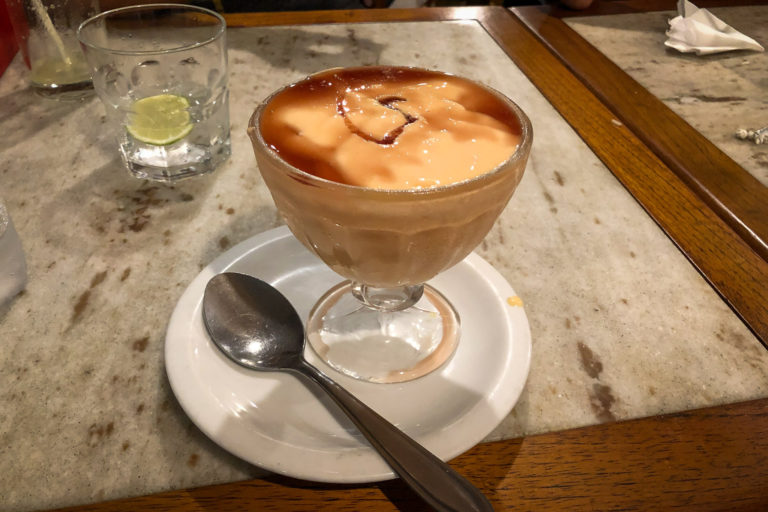 Other popular Brasilian desserts include brigadeiros (chocolate fudge balls coated in sprinkles),  pudim (a flan-like caramel custard that the locals insist isn't flan), cakes of all kinds (brigadeiro, orange, coconut, etc.), and of course ice cream. Cake is very popular at breakfast. Actually, chocolate cake is practically served as a side dish with every meal – the country clearly loves their health food.
Surprisingly, South America gets most of its caffeine not from coffee, but from guaraná seeds. The seeds from the guaraná fruit contain about twice the caffeine as coffee, and are usually consumed in the form of soda (the most popular brand is Antartica) or juice.
It has an interesting flavor, and is the color of maybe a dark ginger ale. I definitely enjoyed the juice, but found it rather strong, and couldn't drink the whole container. Unfortunately, I did manage to spill quite a bit all over myself, thanks to the wonderful quality of Brasil's roads.
Brazilians are probably the friendliest people I've ever met. The culture is laid back, colorful, and vibrant, and the locals' personalities reflect that. It's easy to have a conversation with anyone – even if someone doesn't speak good English, (s)he'll make a joke, laugh boisterously, smile, and move on.
Meals aren't quite the ordeal I experienced in Italy, but they're close. Portions are huge, and these people love to eat! Everyone enjoys talking about and sharing their food, and hosts always check multiple times to make sure you enjoyed the food. It's a huge compliment to them if you did.
Estádio Jornalista Mário Filho
When constructed, the Maracanã was the largest stadium in the world. In 1950, it hosted a crowd of 199,854 when Uruguay defeated Brazil in the World Cup. The stadium has hosted crowds of 150,000+ 26 times. The last crowd of that size was in 1983.
The state of Rio de Janeiro rebuilt the stadium in preparation for the 2014 FIFA World Cup, reducing its official capacity to ~90,000.
Clube de Regatas do Flamengo (everyday = "Flamengo") is the local favorite team, named after a neighborhood in Rio. On our first night in Rio, there was a playoff semi-final game in the Maracanã between Flamengo and Grêmio, another team from Porto Algere, a city on the southern tip of Brasil.
From my room, I could hear people on the street below celebrating wildly every time Flamengo scored a goal (yelling, car horns, and fireworks – just for starters).
If you've never seen the chaos of a Brasilian soccer game, this is worth a watch.
Flamengo actually started as a rowing club, and has professional rowing, volleyball, beach soccer, and other teams.
In the next installment, I'll talk about beef and other things Rio is famous for. I hope to have time to edit more scenic photos between now and then. Thanks for reading Part II!